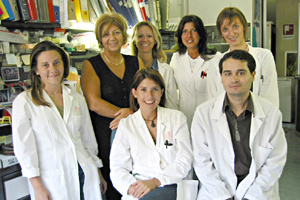 Our institution
Medical School
University of Genova
Via L.B. Alberti, 4
16132 Genova
Italy
---
Our group
Skin Cancer Genetics Group
Department of Oncology, Biology and Genetics
University of Genova
Viale Benedetto XV, 6
16132 Genova
Italy
---
The name, address and contact e-mail, tel of the group leader
Prof. Giovanna Bianchi-Scarrà, PhD
Department of Oncology, Biology and Genetics
Viale Benedetto XV, 6
16132 Genova
Italy
E-mail: vanceci@unige.it
Phone: (+39) 010 – 3537977
Fax: (+39) 010 – 3538978
---
The Skin Cancer Genetics Group at the Dept. of Oncology, Biology and Genetics conducts research on familial melanoma (high- and low-penetrance genes), presence of other cancers in melanoma-prone kindreds, and other heritable syndromes involving skin cancer.
---
Familial melanoma
Melanoma families in our region, Liguria, share a common primary susceptibility, the CDKN2A G101W founder mutation. Generally, CDKN2A mutations are found in large, dense melanoma kindreds. In Liguria, however, the G101W founder mutation is commonly identified in kindreds with just two affected members. In order to explain this finding we are studying other genes and factors that may be able to modify penetrance of the disease. Amongst these, over the past few years we have focused on the MC1R gene, variants of which are associated with fair skin and melanoma risk. We have recently identified novel variants of MC1R in Ligurian individuals, and found that in our population homozygosity or compound heterozygosity for high penetrance MC1R variants are not necessarily associated with red hair.
Moreover, we are setting up a nation-wide population-based study to establish the ratio of familial/non-familial G101W-mutated cases in Italy, in cooperation with Cancer Registries throughout the country.
We have also been studying the expression of the p16 protein in mutation-positive melanoma lesions, and have recently found that it is inversely correlated with tumor progression and shows altered subcellular distribution.
Other cancers in melanoma-prone kindreds
Many studies have reported that members of melanoma kindreds have a significantly increased risk of developing pancreatic cancer, and we have confirmed their results in our Ligurian melanoma families. We are currently conducting a hospital-based study to determine the frequency of both pancreatic and breast cancer in melanoma-prone families, and possibly explain the involvement of the CDKN2A and BRCA2 genes in the development of pancreatic cancer among patients whose family history of cancer displays the features of familial melanoma or breast-ovarian cancer syndrome or clusterings of tumor types which do not fit the stringent criteria for known hereditary cancer syndromes.
Other heritable syndromes involving skin cancers
More recently we have started to study Nevoid Basal Cell Carcinoma Syndrome (NBCCS). We have completed the first molecular characterization of Italian NBCCS patients, and expect to provide soon a preliminary genotype-phenotype correlation which may lead to improved accuracy of diagnosis and help specialists to provide better and more appropriate treatment options.
---
Related Links
Facoltà di Medicina e Chirurgia, Università di Genova
http://en.unige.it/facolta/06.shtml
Dipartimento di Biologia, Oncologia e Genetica
http://www.dobig.unige.it/indiceE.htm
Italian Melanoma Intergroup
http://www.imi-online.it/